Japan passes controversial anti-terror conspiracy law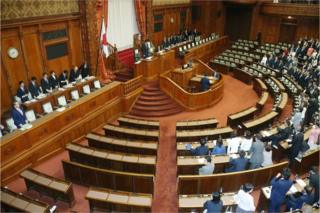 Japan's lawmakers have passed a controversial bill allowing authorities to target terror conspiracies.
PM Shinzo Abe's ruling bloc pushed it through the upper house early on Thursday, despite vocal opposition.
The government argues the law is needed to improve security ahead of the 2020 Olympics, and to comply with a UN agreement Japan has signed.
But critics say it weakens civil liberties and could be abused to monitor and target innocent citizens.
The bill, which criminalises the plotting and committing of 277 acts, is an amendment of Japan's existing law against organised crime syndicates.