Liu Xiaobo: German anger at video taken of visit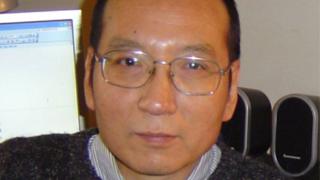 Germany has accused Chinese authorities of controlling the cancer treatment of ailing dissident Liu Xiaobo, instead of his doctors.
The criticism comes after a video of a German doctor visiting Mr Liu appeared on Chinese media, according to the German embassy in Beijing.
German authorities had requested that no recordings be made of the visit.
Mr Liu was moved from prison to a hospital last month to receive treatment for terminal liver cancer.
The German embassy in Beijing said in a statement "security organs are steering the process, not medical experts".
In 2009, the pro-democracy activist and Nobel Peace Prize winner was given an 11-year sentence for subversion.
Following international pressure, Beijing allowed Western doctors to examine the dissident.
Chinese medical experts have said he is too ill to travel, but over the weekend the doctors from the US and Germany said he could go abroad for palliative care.