Somalia: Suicide car bomber targets Mogadishu restaurant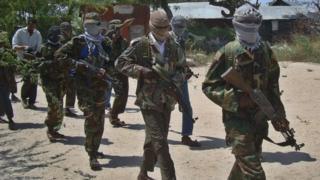 A suicide car bomber has attacked a restaurant in Somalia's capital Mogadishu, killing at least nine people, officials and witnesses say.
They say gunfire was heard as security forces and police responded to the attack on the restaurant popular with young and diaspora Somalis.
Unconfirmed reports say the attackers seized a number of hostages.
Militant Islamists from the al-Shabab group later claimed responsibility for the assault.
Witnesses say the whole district is currently sealed off by the security forces and police.
Security official Abukar Mohamed was quoted as saying by the AFP news agency that the operation to clear the building was continuing late on Wednesday.
Troops from the African Union forced al-Shabab out of Mogadishu in 2011, but much of the country is still under control of the militants.
Al-Shabab, which is affiliated to al-Qaeda, has launched a series of deadly attacks on Mogadishu and other government-held regions in recent months.
Somalia has been wracked by conflict since the long-serving ruler Mohamed Siad Barre was ousted in 1991.